Stainless Steel/Steel Modular Kitchen in Hyderabad
Meet us to get design your stainless steel modular kitchen in Hyderabad exactly as you'd like it. With the direction of our expert, pick your preferred stainless steel modular kitchen Hyderabad to complement your kitchen space.
Choose a style that is appropriate for you! Look over an assortment of alternatives in polished completions, different surfaces, and up-to-date designs! We hear you out. We make key inquiries. We take note of your prerequisites. We draw out your desires. We underline your style.
We get a handle on your functional necessities, stylish desires, and enthusiastic needs. We execute immaculately, so what you've seen is the thing that you get. We manufacture in our own units. Delivery and installation are altogether done precisely and on time. We create and detail the essential ideas into careful completed plans and quotations to coordinate your need and spending plan.
Know About Siravi Steel Kitchens...
As a specialist of steel modular kitchen Hyderabad, Siravi has always improved and refined its product range to give the best answers for the Indian buyers. We offer entire steel modular kitchen plans along with the modified parts. As one of the leading manufacturer of steel modular kitchen in Hyderabad, we are preferred choice for steel modular kitchen in Hyderabad. Whether you are intending to redesign your entire kitchen or upgrading the plan and components of the current kitchen, we offer steel kitchen outlines for contemporary ways of life.
Ranging from kitchen components to finish the kitchen cupboards, the expert offers designer cooking spaces most reasonable for contemporary ways of life. Siravi is the answer to the individuals who are searching for top steel modular kitchen solutions in India. We are driven by the energy of a good plan to change ordinary living.
We have confidence in communicating contemporary thoughts by taking motivation from the Indian lifestyle. So pick us as your steel modular kitchen design specialist or consultant as we enjoy a powerful reputation for an inventive plan and quality execution.
Stainless Steel Modular Kitchen
You no need to restructure or replace your door fronts, which remove extra support cost.
No requirement of taking pain over paint being peeled off.
Lots of metal cabinets come pre-assembled, it means that it just requires to be screwed into the wall.
Metal, of course, has no pressure against the warp.
Stainless Steel kitchens are long-lasting and won't get damaged comfortably.
They are fully eco-friendly recyclable!
These kitchens are also fully either resistant and the classic fabrications safeguard the kitchen from the usual danger of fire.
These Kitchens are full hygienic & fungus resistant.
Subsequent of certain wear and tear, your first scratch is going to be displayed.
You can get it to acquire certain dents subsequent to some amount of time.
These counters are boisterous!
Stainless Steel Modular Kitchen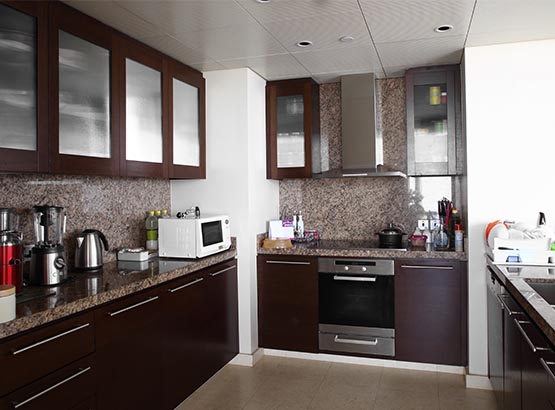 Wooden Modular Kitchen
But when Wood is used, you have to get it changed later or sooner, based on different criteria.
As the kitchen can become completely sticky, putting paint can be a typical problem in wood cabinetry.
Whereas in concerned with wood cabinetry, installation is not flexible as it doesn't come pre-assembled.
Wet warping is a typical problem with wooden cabinetry.
There are many physical parameters & weather conditions that affect the long lasting factor.
If the wood is damaged, it can't be recycled.
Wooden Modular Kitchen is inclined to weather. Humidness straight away affects wood.
Wood is absorptive & therefore, you may have to think about the fungus & termites which can ruin the efficiency & hygiene of your food.
Wooden cabinetry has few chances of scratches.
These kitchens have no issues of denting even if you don't take more seriously.
You won't get any such grievances if you have wooden cabinetry installed.